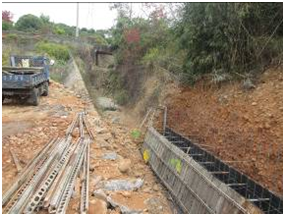 Typhoons have often caused flooding to such areas as Taiwan Boulevard and Shalu District over the years. The Water Resources Bureau of Taichung City Government and professional technicians have identified that the upstream slopes and streams along the east side of Taiwan Boulevard are the main "culprits." The Water Resources Bureau has thus budgeted NT$30 million for the overhaul project, which will be completed before May 30, 2015. It is expected to solve the flooding problems in the watershed.

There mediation projects mainly cover three streams. The first one is along the Pibarimlun Road (枇杷崙農路); the 2nd one is located under National Highway #3 at the back of Hung Kuang University; and the 3rd one is the middle reaches of Chulinnan Stream (竹林南溪). The project started at the end of December last year and will be completed on May 30, 2015. During the construction, the staff of Water Resources Bureau have had good communication with local people and their borough chiefs, aiming to reduce ecological impact on the surrounding environment, said the Water Resources Bureau.

The Water Resources Bureau has also communicated and worked with a number of government agencies, including the Taichung Branch of Soil and Water Conservation Bureau of Council of Agriculture (農委會水土保持局臺中分局), the National Freeway Bureau (國道高速公路局) and the Directorate General of Highways (交通部公路總局). They reached consensus to construct drainage ditches and detention ponds in certain spots in the flood-prone areas.

In addition to the proceeding remediation projects, the Water Resources Bureau has been putting even more efforts to deal with the upstream slopes and streams of the "Nanshan Intercepting Drain." It is hoped that the flooding problems along the Taiwan Boulevard and in Shalu District can be eliminated for good.